Articles tagged with: john hancock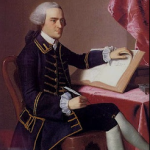 Samuel Adams (1722-1803)
A graduate from Harvard College, unsuccessful businessman and tax collector, entered politics to coordinate efforts against as a leader of . The Sons of Liberty were responsible for the , he was portrayed as a master of propaganda. He was an official of the Massachusetts House of Representatives and one of the founding fathers of the United States. He was a cousin of President John Adams.
 Samuel Adams

James Otis (1725-1783)
James Otis graduated from Harvard College. He was a top lawyer in Boston and became known as an opponent …